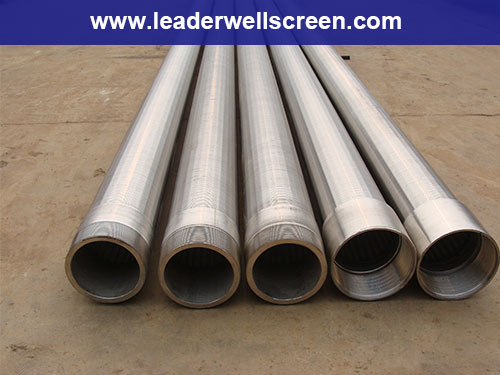 1.The wedge wire screen pipe is used throughout the world for water, oil, and gas wells, and for environmental well completions. It is the dominant screen type used in the water well industry.
2.This type of screen made up of rods and warp.the rod can be round wire,triangular wire and trapezoid wire.
3.The wire is welded to the rods and produces a rigid unit that has high strength and minimum weight.
4.The warp is triangular wire(v-shape wire).The water well screens have astructure and high open area;as well as accurate slot dimension.
5.Wedge wire screen pipe have heat -resising,anti-corrosive,good machine capability,last long ,satefy and reliability and so on.
Specification (wedge wire):
Width(mm): 1.50 1.80 2.30 3.00 3.30 3.70
Height(mm): 2.20 2.50 2.70 3.60 4.30 4.70 5.60 6.30 7.00
Specification (support rod):
Width(mm): 2.30 3.00 3.30 3.70
Height(mm): 2.70 3.60 4.70 5.60 6.30
Round: From 2.50mm to 6.0mm
Note: other specifications available as per request
Slot size:
0.10, 0.15, 0.20, 0.25, 0.30…… 6.00mm also achieved upon request.
Material:
galvanized low carton (LCG), stainless steel (304,316 etc.)
Length:
up to 6 meters
Diameter:
from 25mm to 1200mm.
Related product:
wedge wire screen